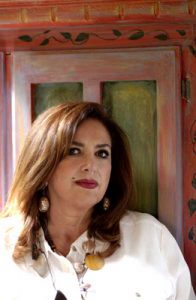 Catalina Proano was born in Quito, Ecuador. She began to study Plastic Arts at the age of 5, and during her school years she took private classes with the European artist Isabel Nador.
When she attended High School, she received private art lessons. After graduation, she went to the Tulpa Institute of Opus Dei and studied Art History and Interior Design.
Then she became an art instructor after obtaining the proper credentials and other accreditations.
Through all her life she studied all kinds of techniques of artistic paintings, plastic arts and handcrafts.
She also studied the elaboration of weaves and natural fibers ( antique and modern).
She is an expert in wood treatments and floors and walls finishing.
Finally, she created a unique type of collage made with natural fabrics, and pure oils and acrylics.
Became enthralled with the art of painting at the age of five. During her childhood and adolescence, she took several courses on specialized techniques of artistic painting. As she became an adult, her love for the arts grew with her. She became intrigued with the antique and modern artistic application of crystal fossils, woods, metals, ceramics and woven natural fibers. Her fascination with these distinguished methods led her to study art history and design intensively.
Katalina's main interest resides in the grandeur of the arts and crafts of the Andean community. As an artist, this inspires her to open new paths for the ecuadorian people by transmitting the richness of their culture through her work.
This passion has influenced her creation of two original techniques; "collage" and "crossing". These distinct methods are vastly rich in textures and feature elements that either interact or are shown alone. These techniques possess a distinct modern style. She hopes that her work will touch the hearts of many people and that she will continue to generate this immense love that she has for art.

Important exhibitions of art around the world have characterized Katalina as an artist that represents her native Ecuadorian roots with a context based on textures, elements and space. She exhibited her art work in important Galleries around the world including New York, Miami and Europe.
Her direct participation at the BIENNALE INTERNAZIONALE DELL' ARTE CONTEMPORANEA, IN FLORENCE (ITALY) in 2005 catapulted Katalina as a very renowned contemporary artist.